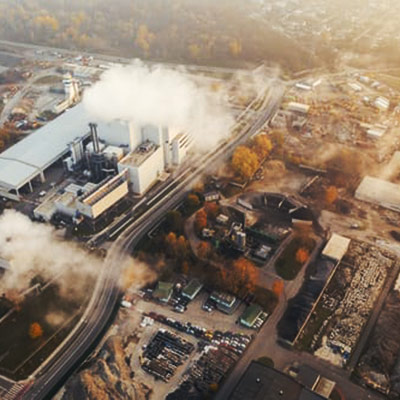 As carbon emissions continue to grow, so does the role carbon removal must play in avoiding catastrophic climate change. While not yet available at scale, new technologies and investments mean carbon capture, utilization, and storage (CCUS) can be part of business strategy now, with the potential to help achieve global net zero by 2050—and even to mitigate job loss in high-emission industries. But realizing its promise depends on secure financing to support an immense increase in scale—and diligent risk assessment to navigate key challenges. More to the point: will increased focus on CCUS risk diverting urgent attention from emissions mitigation?
What's New
The logic of carbon removal seems sound. Our problem is not too much carbon: there is always the same amount. But we are redistributing it into the atmosphere from natural sinks in vegetation, the ocean, and fossils at an ever-increasing pace. Answer: put some of it back into durable storage.
Carbon removal is possible in principle—by various routes. Natural methods, including reforestation, afforestation, wetlands conservation, regenerative agriculture, wider biodiversity restoration, even increasing the population of whales, have an important role to play. Technological approaches, such as direct air capture (DAC) from atmospheric air (instead of sources of carbon-laden air, such as power plants), have been operating minimally since the 1990s, but the physics and chemistry of the process are extremely energy intensive and expensive. Still, one clear advantage of CCUS is the potential for permanent storage deep underground, whereas nature-based solutions are subject to risks, from logging and forest fires to the impacts of warming on natural cycles.
Now, there's growing interest in scaling new technologies for processes that are typically hard to decarbonize. Take Calix in Australia, which builds kilns that produce zero-carbon cement and lime by trapping carbon in honeycomb-like structures at very high temperatures generated by wind or solar power. Analysis of this being put to use in an EU-funded pilot cement plant found costs to be the lowest of any comparable technology, from €14 to €24 per tonne of CO2. Another new approach comes from Merrit Electro Fuels in British Columbia, which plans to use DAC combined with hydrogen to make low-carbon synthetic fuels.
"These technologies can be designed to be small and modular, making them well-suited to curb residual emissions from industrial processes in hard-to-abate sectors. But at the larger, million ton-scale, DAC technology can also start to capture long-lasting carbon dioxide, or legacy emissions, and help move our energy and economic systems to become carbon-negative," says Dr. Rudra Kapila, Senior Policy Advisor for Carbon Management, Third Way, adding that this would both revolutionize our approach to tackling climate change and support businesses and communities alike.
While small-scale plants show promise, CCUS at scale remains largely unproven. Real-world plans for approaching net zero, however, are driving momentum for doing just that. The expansion required will depend on the rate of emissions reduction: the more rapidly we can decarbonize, the less we'll be reliant on carbon direct removal (CDR) to keep a cap on warming. As the United Nations Environment Programme reported in October 2021, even if current pledges to reduce emissions are fulfilled, we'll be on track for a 2.7°C global temperature rise this century. The Intergovernmental Panel on Climate Change (IPCC) projects that we need a carbon removal industry capable of removing 10-20 billion tonnes of emissions from the atmosphere per year from now until 2100 to keep temperature increases below 2 degrees.
The prominent role of CCUS in future carbon scenarios is a challenge for business strategy today. As climate scenario analysis moves up on the agenda as a key recommendation of the Taskforce for Climate-Related Financial Disclosure (TCFD), decisions and investments are beginning to be evaluated and made on the basis of scenarios that assume CCUS is scalable. For instance, the International Energy Agency's Sustainable Development Scenario envisions CCUS delivering 15 percent of global emissions reductions by 2050 to limit temperature rise to 1.65°C. That would mean the installed capacity of CCUS increasing a hundredfold by 2050, which would cost US$650 billion to US$1.3 trillion. Whether such a level of investment and expansion is possible and plausible is far from clear.
The greatest concern about counting on CCUS is the moral hazard. Urgent efforts are needed to mitigate climate risk through emissions reduction, demanding systemic change. There's a risk, however, that increased focus on and investment in CCUS will divert attention and resources from other mitigation efforts: given this danger, it is essential that companies pursuing CCUS situate their investment within comprehensive carbon reduction plans and targets. However, as it becomes increasingly likely that mitigation won't have sufficient impact in time, the case for direct removal of carbon grows stronger, while technical challenges to CCUS at scale—such as cost and leakage—remain.
Achieving the full potential of carbon removal potential calls for combining finance with technical expertise. Climeworks, which launched the world's largest existing air capture plant in Iceland in September 2021, secured a purchase agreement for direct air capture and storage with insurance company Swiss Re in August 2021 worth US$10 million over ten years. That is a commitment on the part of Swiss Re to invest now to promote scale—and they are not alone: alongside Microsoft and Audi, some 8,000 individuals have subscribed to Climeworks' voluntary carbon credits model.
What stands out with Swiss Re is the long-term nature of its agreement, which Mischa Repmann, a senior environmental management specialist at the firm, explains is essential to scale the technology: "A long-term purchase agreement makes the next plant bankable, like power purchase agreements do for renewables. It provides the developer with future revenue certainty, which is what lenders want to see."
But, Repmann adds, securing the funding for ten years or more is tricky: "An internal carbon pricing policy can be designed to stretch 10 years into the future; yearly budget planning exercises cannot."
Carbon removal deployment subsidies can play a similar role to investment and production tax credits used to scale wind and solar power. The US currently offers performance-based credits both for storing carbon and embedding carbon into products. Yet while renewables have a clear business case in producing electricity, scaling carbon removal will rely more on policy supports such as carbon pricing.
Climeworks' solution does offer a revenue stream in the form of fizzy drinks—as do other carbon-based products from fertilizer to low-carbon fuels to plastics. London-based Carbon Clean, for example, is working with Swedish startup Liquid Wind to make methanol from captured CO2 and hydrogen. They hope to provide fuel for ships by 2024, by which time there should be vessels at sea that can run on methanol.
A commercial market for clean hydrogen from natural gas using CCUS could also support decarbonization by replacing coal in manufacturing processes for hard-to-abate industries, such as cement, iron, and steel. As Ameer Azim, Director at BSR, says: "CCUS will be a vital component in process improvements for industries such as steel manufacturing and are viable options for mitigating emissions in the near and long term."
These more profitable possibilities offer varying lifecycles for carbon storage: ephemeral for drinks, short for fuels, longer for materials—while raising questions around material waste. Ideally, the voluntary carbon market will evolve in such a way that projects offering longer-term storage will fetch a higher price.
Arguably, Climeworks' most valuable output is a CO2 mix that will react with basalt rock to mineralize in just a few years (as opposed to centuries for natural mineralization). This would trap the carbon for millennia and thus overcome the issue of carbon leakage in other storage options, from oil fields—where carbon can escape from underground reserves—to forests. The amount captured through afforestation in one location could be outweighed by logging elsewhere. Climeworks is also partnering with a carbon removal firm in Oman to explore the potential for mineralization in the country's rocks, which scientists estimate are capable of storing up to 50 trillion tonnes of CO2. But to capture such an opportunity, carbon accounting needs to move from volunteerism to mainstream markets.
One promising development is the creation of a new set of rules for the carbon market as part of the COP26 Glasgow Climate Pact (Article 6), including both a centralized system open to the public and private sectors and a separate system for bilateral trade between countries. This is expected to drive investment toward schemes that generate carbon credits, including both natural and technological methods for carbon removal.
Meanwhile, interest in carbon removal is increasing. United Airlines plans to partner with joint venture iPointFive to deploy direct air capture as part of its goal to reach net zero by 2050 by investing in sustainable aviation fuels and carbon removal. Such joint ventures may also boost airlines' reputation and license to operate and grow, but it is important to establish standards and reliable metrics to ensure robust verification.
Carbon capture scale-up will also call on skills and infrastructure displaced from the oil and gas industries, potentially mitigating job loss and supporting a just transition. The Acorn project, the UK's first commercial CCUS plant, is due to open in the middle of the decade and will use existing North Sea gas pipelines to pump CO2 from a coastal gas terminal into undersea sandstone beds. The project aims to transform high-carbon facilities into low-carbon infrastructure while sustaining jobs.
The Fast
Forward
BSR Sustainable Futures Lab
Implications for Sustainable Business
Over 3,000 businesses have joined the UNFCCC Race to Zero campaign, pledging to reach net-zero GHG emissions as soon as possible and by 2050 at the latest. A new corporate net-zero standard from the Science-Based Targets initiative (SBTi) requires that companies have near-term and long-term science-based emissions reduction targets and, at the point of claiming net zero, use measures that remove carbon from the atmosphere and permanently store it to neutralize remaining emissions.
On the way to net zero, companies are encouraged to take action to avoid, reduce, or remove emissions beyond their value chains, and the SBTi is exploring ways to incentivize companies to make such investments. This means that in addition to doing everything they can to reduce Scope 1, 2, and 3 emissions, companies should invest in nascent carbon removal technologies—so that these reach sufficient scale and affordability to support the final leg of their net-zero targets as well as the global net-zero goal—as well as in enhancing natural carbon sinks.
One company taking early steps to invest in carbon removal technology is Microsoft, which has set a target to capture more carbon than it emits by 2030 and the equivalent of all its emissions since it was founded in 1975 by 2050. This carbon-negative commitment required the company to shift its strategy from carbon offsets to carbon removal. The company has published the lessons it learned during a first round of procurement in 2021, in which it found only 2 megatonnes (Mt) of CO2 removal were immediately available and met its quality criteria, from among projects proposing to remove 154 MtCO2.
On top of the evident need to scale, Microsoft identified a lack of clear standards and definitions, with inconsistency in the timeframes for storage a particular problem. The word "permanent," it found, is currently used to cover projects storing carbon from less than 100 years to over 1,000. In response, Microsoft divided its portfolio into short-, medium- and long-term projects to include: carbon sequestration in forests and soil for up to 100 years; biochar, which, when used as a soil additive, can store carbon for an estimated 800 years; and two engineered projects—direct air capture by Climeworks, and bioenergy with carbon capture and storage (BECCS) by Charm Industrial, which produces a carbon-rich bio-oil and injects it into deep geologic storage. For both of these projects, durability is estimated at 10,000 years.
While these approaches should not come at the expense of direct decarbonization measures that will help approach net zero, they can help to scale techniques that will become increasingly important. There's also the option of small-scale certified carbon removal schemes that employees can be encouraged to buy into individually or collectively. However, as Thuy Phung, who works on sustainability strategy at BSR, points out: "For credibility under increasing scrutiny from civil society, companies should communicate their efforts to decarbonize—such as science-based emissions reduction targets and progress reports—as context for any investment in carbon removals, and this applies to employee schemes too."
Investment in CCUS projects needs to be well informed in a fast-moving domain. Increasingly, in line with TCFD, regulators and other stakeholders will call on companies to produce plans detailing how they will achieve net-zero targets and require them to disclose a common set of metrics. To prepare, companies need to make realistic assumptions about the role of CCUS in their climate transition plans, particularly with regard to availability and the pace of scale required. Climeworks' plant (the world's largest) will extract 4,000 tons CO2 a year, while current global emissions stand at 40 billion tons CO2 a year.
Before adequate standards are in place, there's the hazard of projects that, with the best of intentions, fail to provide a robust or reliable service. Self-regulation is emerging, and companies may wish to support this effort. The Voluntary Carbon Markets Integrity Initiative aims to develop high-integrity guidance for buyers of carbon credits and corporate climate claims.
Companies supporting their own carbon removal projects, especially large-scale direct air capture and sequestration, will need to engage seriously with local communities at an early stage. Concerns about the impact on air quality, property values, and tourism (due to drilling, excavation, or construction) are common, while researchers have found the perceived benefits for local communities to be low. Community compensation can be embedded in public engagement strategies in response to local needs. At the same time, industrialized regions may see benefits in high-skill, high-wage jobs as decarbonization infrastructure is laid down. As the value chain develops, CCUS infrastructure development needs to support a just transition for workers in incumbent industries, feeding into climate justice considerations as employment in fossil fuel energy systems is eroded.
Location could be crucial to the success of new plants in securing long-term storage options for the carbon removed—whether that's in disused oil and gas wells or in rocks resembling the Earth's mantle in Oman. Beyond further workforce implications, a future in which a US energy company buys carbon credits from a CCUS project in Oman highlights the need for a reliable and credible voluntary carbon market. Moreover, the risk of carbon leakage during transportation from sites of capture to storage locations requires strong measuring, monitoring, and verification procedures to ensure the amount reported as stored is not inflated.
There's also a broader climate justice perspective. When attention switches to carbon removal, the proportion of historic carbon emissions due to different countries will be a crucial element in policy negotiation about who should build and who should pay for it. The burden of financing carbon removal technology should fall on countries that have contributed the most to emissions—can the weight of benefit, in terms of jobs, infrastructure, and social investment, fall on communities suffering climate impacts?