Tell us a bit about your background. Where are you from, and where are you based? What is your favorite hobby?
Born and raised in Sweden, I currently share my time between Copenhagen and Berlin. An increasingly flexible job culture that facilitates dynamic lifestyles has been one upside of the pandemic! Although an unusual set-up, it is not that surprising as traveling has always been my biggest hobby. Since childhood, I have constantly enjoyed exploring new places, which has given me some great experiences around the globe, such as milking cows on a kibbutz in Israel, working as a barista in Dublin, and waitressing on a beach in the Dominican Republic.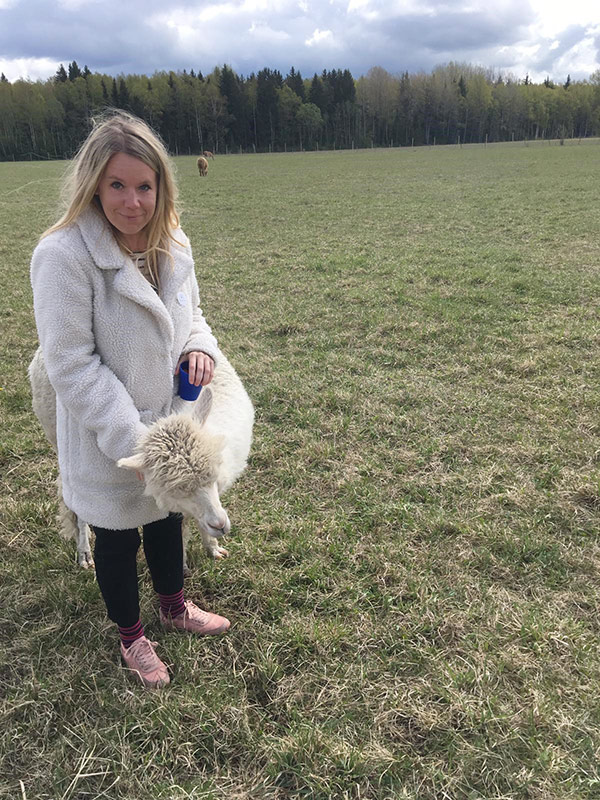 This has become less frequent in the past few years due to the pandemic, and in lockdowns, I had to find alternative solutions to keep the travel bug at bay. I started to "travel" via cuisine, by cooking foods from different parts of the world—a perfect combination with another hobby of mine!
How did you first get involved in sustainable business? How long have you been at BSR? What is your current role, and what does that entail?
Backpacking across five continents has opened my eyes to structural inequalities around the globe. Having said that, it has always been important for me to have a job that contributes to societal change. When it was time to (temporarily) put down the backpack, I decided to tie these dots together through a degree in Political Science at Lund University, Sweden.
I joined BSR in February as manager of ESG investing in the Financial Services team. Previously, I worked in the responsible investment industry, advising institutional investors on how to incorporate environmental, social, and governance (ESG) factors into investment decisions. Engaging investee companies to improve their management of the most material ESG risks is also what drew me to BSR—an opportunity to create impact by working directly with member companies.
My role at BSR is a new position due to an increased demand for knowledge around ESG, not only from investors but just as much from issuers. I work together with our financial services members to incorporate ESG and responsible investment priorities into strategy and reporting, and I support non-financial members on how to enhance sustainability by applying the investor perspective.
What are some interesting projects that you get to work on as part of your role at BSR? What do you enjoy about them?
I provide ongoing support to private equity firms on integrating ESG considerations into the investment process, including guiding members through the landscape of financial instruments for corporate impact and providing insights on how ESG can be tied to executive compensation. The financial sector plays a crucial role in the world's economy and has substantial leverage over all other industries and business activities. I'm proud to contribute to steering investments toward alignment with the SDGs and other sustainability frameworks in my daily work.
One thing that has taken up some of my time since joining is educating non-financial members on the relevance of ESG ratings and how these are used by investors. I feel inspired when I can reach out to high-growth companies that are often early in their ESG journey and nudge them in the right direction.
What issues are you passionate about and why? How does your work with BSR reflect that?
I have always been passionate about justice, which is closely connected to sustainability in my book. Since I joined the responsible investment industry, the importance of ESG has been climbing higher up on the agenda, but we need to roll up our sleeves even more. Business can play a vital role here, and allocation of capital is a strong action.
At the same time, the last decade has seen many positive developments and increased awareness of ESG from both investors and investee companies. The fact that the field is now becoming increasingly regulated both in Europe and the US underlines the importance of the work we do.
Besides knowing from an early age that I wanted a job with an agenda that drives positive change, I have always been attracted by working in dynamic and diverse teams with colleagues from all over the world. BSR ticks both boxes: I'm grateful to have found a job that allows me to connect with an amazingly passionate, skilled, and international bunch of people to develop business and personal relationships within a strongly purpose-driven organization.
Topics
Let's talk about how BSR can help you to transform your business and achieve your sustainability goals.