Tell us a bit about your background. Where are you from, and where are you based? What does a day in your life look like? What is your favorite hobby?
I was born and raised in New Jersey, studied computer science in upstate New York, and spent the first stop of my career working as a packaging developer for Coty in New York City. I had a "crisis of conscience" in my mid-20s and ultimately made my way across the pond to study sustainability at HEC Paris. I've lived in France for over 13 years, and I wouldn't want to be anywhere else.
A day in my life consists of lots of family time with my wife and two little ones, Olivier (5) and Agatha (3), biking in and around Paris, often on the way to the BSR office. My evenings are split between home-cooked meals with friends, a handful of hobbies, and a fair amount of external work events. My favorite hobby is definitely singing—second only to training for races. I've been singing and playing instruments since I was little, and today I'm a tenor soloist in a 30-person choir.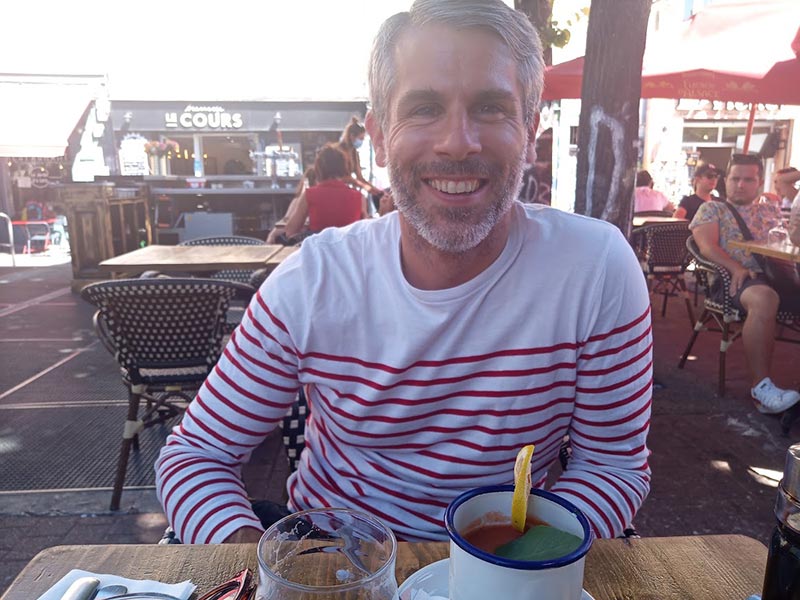 What are some interesting projects that you get to work on as part of your role at BSR? What do you enjoy about them?
I got involved in sustainable business thanks to a fluke, really. I was studying sustainability at the Business School HEC, but it was a real career shift moment and those are never guaranteed.
HEC held a speed-networking event with alumni, and I met Pablo Fuentes who had just finished the same masters program and then interned at BSR (who now works for Rever Consulting in Brazil). Once he described BSR's work and mission, I was convinced it was the place for me.
I've now been with BSR for almost 12 years, and I've worn multiple hats over the years. I first supported our work in stakeholder engagement, sustainable fashion, and French regulation, and I supported a number of collaborations, such as Clean Cargo and Pharmaceutical Supply Chain Working Group. I also joined the Consumer Sectors team as BSR's beauty and personal care sector lead, working with companies like L'Oréal and Estee Lauder. And over time I became our global reporting lead, founding our Future of Reporting collaboration.
Recently, I've shifted gears once again and I have three prime responsibilities: I lead BSR's Paris office, I lead the intersection of tech and industrials sectors for EMEA, and I lead our engagement with high-growth companies in EMEA.
What issues are you passionate about and why? How does your work at BSR reflect that?
That's my real passion—working in tech and in sustainability. I've always been a self-professed tech geek. I grew up surrounded by tech. My mom started her own communications business in our basement, and we always had cutting-edge Macs and high-speed internet. It was a perfect storm.
I found ways to involve myself with our technology members over the years, but today I count myself incredibly lucky to dedicate much of my time to solving the crunchy tech sector sustainability challenges—from identifying human rights risks to defining responsible product development and use practices, to enabling more sustainable e-commerce and building sustainability programs from the ground up for early-stage companies—and beyond.
There's something about people working in tech. They're passionate, innovative, energetic, and disruptive—but increasingly extremely well-informed on the responsibility that comes with the power of tech in the 21st century. It's thrilling. And I get to dive into incredibly fun topics like AI, VR, virtual twins, the metaverse, electric vehicles, and much more. Working on these exciting and daunting topics is a way of pairing my passion for tech and my driving need to work on sustainability. As I said, I'm incredibly lucky.
What were the things that brought you joy amid the uncertainty and challenges of the past two years? What are you looking forward to in 2022 and beyond?
These past two years of COVID have been a challenge. But what has brought me joy amidst all of that is simple—the people around me. Watching my little ones continue to grow, finding a new rhythm with my partner, working with incredibly supportive colleagues, and connecting with family, friends, and peers all around the world in our shared, virtual, at-home existence. It was surreal, but it was also heartening that we found ways to reach out and be with each other.
Looking forward can be daunting. We have our work cut out for us. The planet's getting warmer, our political divides are deepening, and our once taken-for-granted progress on issues like gender equality and diversity are being put into question. We have to accelerate our work. While tech alone won't save us, I look forward to deepening my work in the sector and with the BSR team, because I know our people are motivated to overcome these challenges and make the world that much better.
Topics
Let's talk about how BSR can help you to transform your business and achieve your sustainability goals.