Tell us a bit about your background. Where are you from, and where are you based?
I grew up in a small French village close to Paris, surrounded by oak forests and rivers. I have a background in environmental sciences and sustainable development. Currently, I'm based out of BSR's Paris office.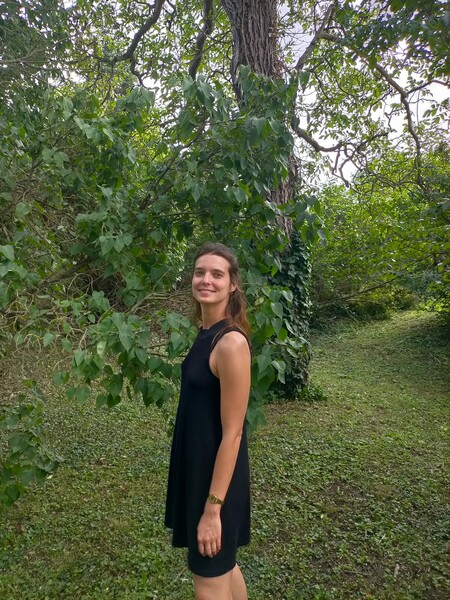 How did you first get involved in sustainable business? What is your current role, and what does that entail?
I've felt deeply passionate about nature conservation since I was a child. My favorite cartoons were wildlife documentaries. At ten-years-old, I was in the local newspaper for identifying a specific owl (Athene Noctua) at a competition organized by the region.
In my third year of university, I had the opportunity to work in Kenya at a wildlife reserve owned and operated by the local community in the Great Rift Valley. My main responsibilities included maintenance, inventory, and diagnosis of the fauna and flora of the reserve as well as communication around biodiversity. The reserve focused on preserving the ecosystem and protecting a specific endangered giraffe—the Rothschild Giraffe. Scientists currently recognize only one species of giraffe with nine subspecies. It is easily distinguishable from others because of its white legs that look like long socks!
Following this, I worked in sustainability and nature topics at various entities, including a research department on waste management in a mission-driven company and an audit company, assessing the reliability of companies' data disclosed in CSR reports. At WWF France, I supported companies on their nature issues across different industries. I was also seconded to Science Based Targets for Nature where I was lead coordinator for the working group on biodiversity metrics for companies. I really enjoyed working at the interface of international research and supporting business with taking action on nature.
At BSR, I help companies identify and address their impacts on nature and develop ambitious strategies. I love the variety of projects around nature across various industries and organizations—including nature benchmarking, biodiversity or freshwater risks site assessments, commodity risks assessment, nature strategy, implementing actions and roadmaps, and support in training and education around nature. I love the people I work with, the international environment, and the BSR mindset to build impactful projects to achieve a just and sustainable world.
Congratulations on the recent "Le Cercle de Giverny" nomination! Could you tell us more about the award?
Thank you! The Cercle de Giverny is a hybrid think-tank to scale up corporate social responsibility in France. The work is placed under the patronage of the Ministry of Economy and Finance. The Cercle de Giverny has 2 main activities:
Propose recommendations for the French Government on CSR topics: Le Cercle de Giverny built up working groups of experts and companies that will present 20 to 25 recommendations to the French government on CSR issues. I've been appointed to belong to the working group on how to represent nature within decision-making bodies.

The Palmares of Giverny. This award brings together 50 committed leaders who are helping to accelerate France's ecological and social transformation. It recognizes commitment, entrepreneurship, and creativity of young people who are building the future with hope and pragmatism. I am very proud to have won this award and to represent BSR. It was also a wonderful opportunity to meet a group of inspiring young people who are motivated to act on sustainability in their day-to-day work.
What are some interesting projects that you get to work on as part of your role at BSR? What do you enjoy about them? What are you looking forward to in the next 6 months?
I have largely focused on developing BSR's Nature services for members based on the Science Based Targets for Nature (SBTN).
SBTN aims to set the standard for ambitious measurable corporate actions on nature which includes, and builds upon, climate actions. It is a network of 80+ NGOs, business associations, and mission-driven consultancies contributing their expertise to collectively define targets to stay within planetary boundaries. The first technical guidance was released in May and provided insights on how companies can assess their impacts on nature, prioritize, and set targets for Freshwater and Land. I truly believe that companies' action on nature needs to be informed by science to ensure they are doing enough and that their activities fit into the biophysical limits of our planet.
I am currently involved in a project to support SBTN in building a "Readiness Check Framework"—a self-assessment tool that will help companies, NGOs, and consultancies to assess the accuracy of their work prior to target-setting. This tool is currently tested by around 30 companies and will help SBTN scale up actions and impact.
I also support a wide range of companies on nature topics. I worked with an IT company to assess the current state of nature in 14 countries in Asia-Pacific and develop recommendations to reduce nature loss. I also carried out nature benchmarking for a hydropower company and built-up recommendations on a nature roadmap for their direct operations and upstream impacts. Recently, I worked on a commodity risk assessment as well as a biodiversity and water site assessment of more than 2000 sites for a jewelry company. All of these projects raised key and concrete questions on how to avoid and reduce the company's impacts on nature as well as restore and regenerate natural areas.
What issues are you passionate about and why? How does your work at BSR reflect that?
I am passionate about nature. Nature loss would be the most important challenge we are facing today and need to tackle in the future. I am driven to learn more about my favorite subjects, nature, and biodiversity, from other people. I also like to share my knowledge with my colleagues and educate others outside of BSR. I am a temporary teacher at AgroParisTech, an engineering school where I am speaking on biodiversity as well as tools available for organizations to tackle nature and biodiversity topics.
Topics
Let's talk about how BSR can help you to transform your business and achieve your sustainability goals.