Tell us a bit about your background. Where are you from, and where are you based? What does a day in your life look like? What is your favorite hobby?
I grew up in Central Pennsylvania and now live in New York City.
At BSR, I support financial institutions—including banks, private equity firms, and venture capital firms—in integrating sustainable business practices into their investment processes. In a world where financial systems hold significant power, I find this work incredibly pressing and important. In my free time, I am an entrepreneur! I have my own custom board game business, Bundle, with my sister.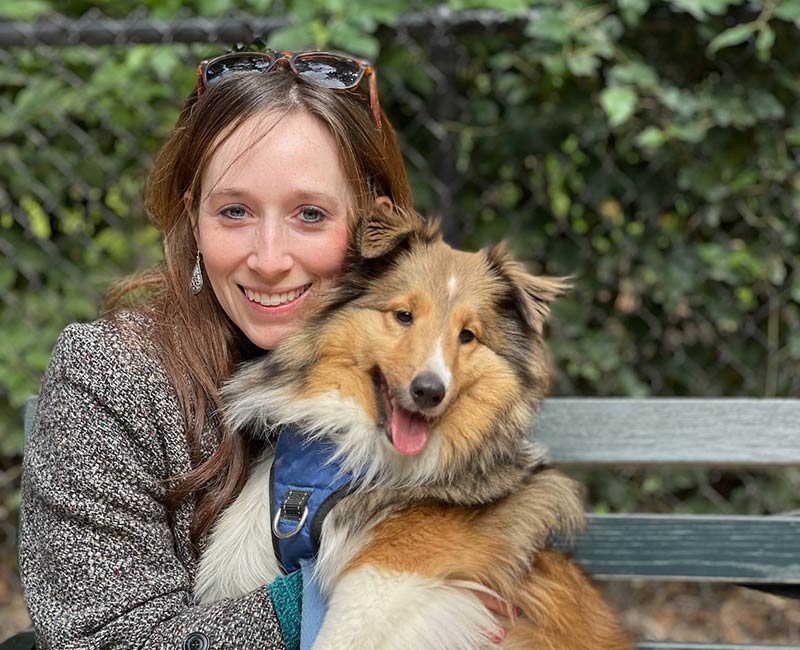 How did you first get involved in sustainable business? How long have you been at BSR? What is your current role, and what does that entail?
When I was a college senior at Susquehanna University, the 2008 financial crisis hit. I remember watching financial news on TV—seeing executives receiving bailouts while everyday people were losing their homes. It didn't seem right.
I packed my bags and moved to Nicaragua, where I was a Peace Corps Volunteer for two years. There, I witnessed a more ethical way of conducting business—micro-lenders that offered low-interest rates loan to new entrepreneurs, small restaurant owners that would consciously price their menu so community members could afford them, and farmers that formed co-operatives to equally share risk and profits.
When I returned from the Peace Corps, I enrolled at Harvard Kennedy School to understand how our own financial system could be repaired. My thesis analyzed Fortune 500 companies' role—sometimes positive, sometimes negative—in upholding human rights.
After an enlightening stint at Deutsche Bank, where I learned the technical aspects of finance—but even more importantly, what motivates people, how power structures are upheld, and how groupthink affects decision making—I joined BSR.
Here, I am a Manager on our Financial Services team, working alongside large banks, private equity firms, and venture capital firms to consider how financing can be done in a way that respects people and our climate.
What are some interesting projects that you get to work on as part of your role at BSR? What do you enjoy about them?
What I really value about BSR is that we are given the agency to pursue what motivates us. About six months ago, I started to read about the housing crisis unfolding before us. In my research, I learned that housing is incredibly unaffordable due, in large part, to institutional investors rapidly buying up the housing stock across places like the US, Canada, and Spain. (Learn more in this blog post I co-authored.)
With the support of BSR colleagues, I have spent the last two months having conversations with people most negatively affected by this housing crisis—including tenants, members of tenant associations, and heads of fair housing centers—to better understand the challenges and potential solutions at hand. Now, BSR colleagues and I are planning to engage private equity members on this issue.
It is a systemic challenge, and I am looking forward to mobilizing stakeholders in collective action.
What issues are you passionate about and why? How does your work at BSR reflect that?
I grew up in a small coal mining town in Pennsylvania, where there is a history of miners getting severely injured or killed due to unsafe working conditions. So, from a young age, I became passionate about how everyday workers and communities are treated by those in power.
At BSR, I get to work with mission-driven people at financial institutions who also care about the same issues. Together, we've worked to establish living wage policies for workers, build Net Zero carbon emissions plans, and create human rights-focused due diligence practices. One project that was particularly special was working with Allbirds and a team of advisors to develop the Sustainability Principles and Objectives (SPO) Framework, a set of climate and human rights standards for companies about to go public.
What were the things that brought you joy amid the uncertainty and challenges of the past two years? What are you looking forward to in 2022 and beyond?
There have been many blessings in the last two years. First, due to flexible remote working, I was able to spend more time with my family in Central Pennsylvania. Second, I spent a lot of time hiking and even reached the highest peak in 12 US states—and counting. Third, I got the cutest Sheltie named Frisbee—we spend time at the dog park in Central Park, which is his (and my) happy place.
Topics
Let's talk about how BSR can help you to transform your business and achieve your sustainability goals.