BSR's Nature team dives into the Science-Based Targets for Nature and discusses how business can take immediate action if it is to keep pace with the market and mitigate nature-related risks before they become acute.
What Business Leaders Need to Know
Introduction
While business has focused on net-zero targets and climate disclosures for some time, the Global Biodiversity Framework established a new standard for business, with reporting frameworks such as the Taskforce on Nature-related Financial Disclosures (TNFD) developing along a similar but rapidly increased trajectory.
In 2015, companies faced a critical decision about how to position themselves on climate following the adoption of the Paris Agreement. The latest developments create a repeat scenario for nature, compelling companies to define their nature leadership, targets, and path in 2023. Biodiversity is not just an add-on to a net-zero trajectory. It is a necessary condition for its achievement.
The latest scientific findings prove that climate and nature are inextricably linked; one crisis cannot be solved without addressing the other. Recently, the IPCC Synthesis Report indicated that nature is the solution to a significant proportion of climate change mitigation and adaptation—such as better water management and carbon sequestration in agriculture—while also warning about the dangers of maladaptation.
Business has increasingly embraced science-based targets (SBTs) for climate (via the Science Based Targets Initiative, or SBTi), giving rise to the question of how companies should respond to the rapidly developing but clear science which guides the development of the Science-Based Targets for Nature (SBTN).
What Are the Science Based Targets for Nature?
Science Based Targets for Nature (SBTN) are defined as "measurable, actionable, and time-bound objectives, based on the best available science" to allow business to "align with Earth's limits and societal sustainability goals." These targets present companies with another avenue for assessing and addressing its environmental impact more holistically.
Even for businesses eager to reduce negative impacts on nature, there is uncertainty about how to devise and prioritize action in a way that addresses their most material impacts. The SBTN process can help business mitigate risks related to nature while respecting the Earth's limits and preparing them for upcoming nature-related regulations and legislation, such as the EU Deforestation Regulation or the upcoming Corporate Sustainability Reporting Directive (CSRD) on biodiversity.
The methodology behind the SBTN is a combination of the planetary boundaries framework from the Stockholm Resilience Center and the societal goals embedded in UN frameworks and conventions.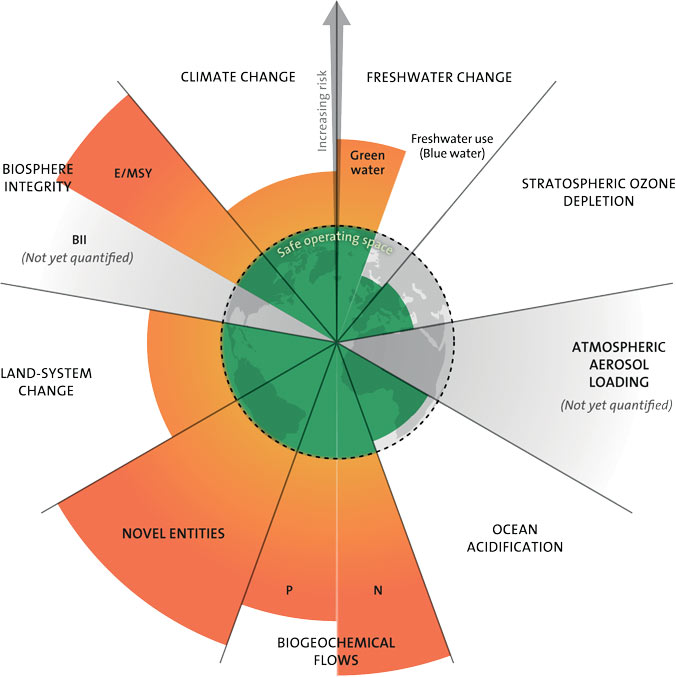 Credit: "Azote for Stockholm Resilience Centre, based on analysis in Wang-Erlandsson et al 2022."
The SBTN follow the SBTi, responsible for furthering ambitious private-sector action on climate and extending SBTs to other components of nature (freshwater, land, biodiversity, ocean).
Why Are They So Important?
Our planet is experiencing an unprecedented nature crisis, driven by irresponsible and unsustainable exploitation of Earth's natural resources and systems. Since 1970, we have lost 69 percent of Earth's wildlife species, and 1 million plant and animal species are at risk of extinction. As this trend is anticipated to continue, biodiversity loss and ecosystem collapse is one of the top four risks for business in the coming 10 years.
Credit: "World Economic Forum 2023"
Within this context, there is a growing need for companies to tackle nature-related topics and increase their action and investments in nature. The climate crisis—already at the forefront of many companies' sustainability strategies—cannot be solved without simultaneously solving the nature crisis. Indeed, science tells us that net zero is not possible without nature. Beyond climate, nature also presents a material and growing risk for business in its own right, necessitating that companies understand, manage, and effectively mitigate nature risks.
Latest Developments
Historic developments in governing nature are setting the stage—and evolving norms—for the private sector to raise ambition around nature-related issues. These developments include:
The Global Biodiversity Framework (GBF), launched at COP15 and agreed to by 196 signatory countries, it aims to halt biodiversity loss while protecting and conserving 30 percent of coastal, marine, land, and inland water areas by 2030. The role of the corporate sector in achieving the GBF's policy goals is outlined in several targets, including Target 15, which sets mandatory assessment and disclosure requirements for businesses and their supply chains. Governments and companies are feeling the pressure to abide as a result of the Make It Mandatory Campaign.
Initial guidance for business to set Science Based Targets for Nature (SBTN) was released by the Science Based Targets Network. The guidance enables companies to set targets aligned with science for land, freshwater, ocean, and biodiversity, and it relies on the SBTi to cover the atmosphere.
Launch of the Taskforce on Nature-related Financial Disclosures (TNFD) in September 2023 to encourage companies to report—particularly for investors—on their nature impacts, dependencies, and strategic plans.
The global regulatory environment for nature continues to evolve and raise the bar for what's required of companies. This includes the recent European Deforestation Regulation (EUDR) which forbids commodities and products linked to deforestation from entering the EU; the pending EU regulation on nature restoration, which will carry significant implications for companies in agriculture or forestry; and the finalization and enforcement of the EU CSRD (CSRD) and its mandatory reporting on biodiversity.
Rules and requirements are developing at lightning speed, with mandatory disclosure of nature impacts and dependences anticipated for all global companies by 2030.
What Does This Mean for Business?
Given the speed at which the nature space is maturing, companies—and CSOs in particular—need to take bold and immediate action if they are to keep pace with the market and mitigate nature-related risks before they become acute. BSR recommends that companies assess their nature impacts, consider people, and transform business practices and models to halt and reverse nature loss.
The CSO Checklist
Locate and Assess Nature Impacts in the Supply Chain
Identify your "quick wins:" A full assessment and evaluation of your operations and supply chain is the only way to know your company's actual impacts on nature, and associated material impacts on your business. However, existing (free) databases can help you identify where some of the greatest risks and opportunities are likely to exist within your supply chain. This can be based on already identified material issues and supplemented by resources like the ENCORE tool, which provides sector-level data on specific economic activities. Take this opportunity to identify potential impacts and dependencies, and start implementing "no regret" actions, such as lowering water use, establishing deforestation- and conversion-free guidance for your company, or increasing circularity programs to reduce waste. Such short-term actions can help your company make progress while you define a long-term strategy and approach that addresses your company's specific impacts and dependencies.
Gather data and enhance traceability: Evaluate your existing data, and identify gaps. Full traceability in your supply chain, or credible proxy data and/or secondary data, is essential to understanding the original source location of your materials, and accurate data is key to understanding your impacts, dependencies, and measuring progress. Companies will be well-served by establishing clear and robust data tracking for nature metrics in their supply chains.
Assess your impacts and set a target: Conduct a nature materiality assessment in your supply chain to identify your most significant impacts and dependencies. Prioritize what you will tackle, and then set and make public your targets for nature, be it an internal one or derived via SBTN.
Consider People
Include people in your nature assessment: The GBF makes clear the importance of people and their inherent rights and relationship with nature. Companies should put people at the center when assessing impacts and crafting solutions. Therefore, it is important to understand —and integrate into your assessment—not just the physical impacts on nature, but also how those impacts affect the lives of people, and the livelihoods of local communities. Ideally, this is implemented in close partnership with local stakeholders.
Respect and protect the rights and contributions of Indigenous Peoples and local communities (IPLCs): The rights and contributions of IPLC should be both recognized and utilized by companies across their supply chains. Companies should prioritize working in partnership with IPLCs to design an approach that protects and revitalize nature and related IPLCs while addressing business impacts. Studies have shown that Indigenous Peoples are the most effective stewards of the land, and their unique knowledge and contributions will be vital for developing and implementing the solutions needed to meet the GBF's ambitious but necessary goals. SBTN's development of these parameters is forthcoming, placing the onus on companies to immediately begin integrating considerations within business operations.
Transform Your Operations
Scale your existing actions around nature: Once impacts and dependencies are clear and targets are set, it is time to pivot toward action. Consider, for example, where you can reduce negative impacts related to high-impact commodities, switch to lower-impact materials, or shift to more sustainable methods of production. This may involve reimagining products or services entirely or embracing newly identified business opportunities and models. Seek synergies with climate targets work, and aim to develop a holistic strategy and implementation plan.
Develop internal capacities to address the nature crisis: As with climate, addressing your impacts will require effort throughout the organization, starting from integration with strategy and governance to operationalizing via departments like procurement to compliance to design. Employees will need to understand the company's vision for nature and how their specific role and tasks fit into that vision. This may require specific training and clear roadmaps with concrete actions for employees to fully understand and contribute to the company vision and target.
How We Can Help
Scientific research, frameworks, regulations, and tools are developing and evolving at a frenetic pace, making it difficult for companies to stay current in the Nature landscape, and understand how developments relate to one another.
At BSR, we help companies interpret their Nature impacts and dependencies and develop ambitious strategies and solutions to address risks and opportunities, both in their own operations as well as throughout the value chain.
Nature assessments: BSR offers services to help businesses conduct Nature materiality assessments, Nature-related issue or commodity-specific analyses, and integration into other assessment frameworks.
Nature strategy and policy development: BSR helps businesses with Nature target and goal setting, along with issue-specific policy development (e.g., corporate deforestation policy, biodiversity policy).
Operational and implementation guidance: Once the strategy is set, BSR supports companies in developing and executing implementation plans to deliver on Nature goals, identification of trusted local partners on the ground to implement these activities, and supplier engagement strategies.
Artificial Intelligence Is Helping Decode the Languages of the Natural World
Artificial intelligence (AI)-powered analysis of how ecosystems use and respond to sound, also known as "bioacoustics," could accelerate environmental monitoring and increase understanding of impacts.
Business should anticipate increased scrutiny of the environmental impacts of industry, including but not limited to noise pollution, as well as implications for sustainability reporting and ethical data use.
Interest is growing in how this new understanding could be applied to help measure ecosystem health and support restoration efforts.
The Concept of "Nature's Rights" Is Being Extended into Criminal Law
Courts and legislatures are increasingly extending legal personhood to water bodies, wildlife, and ecosystems, granting them a defendable right not to be harmed.
Businesses can expect expanding regulation on environmental impacts just as for human rights, from due diligence to trade barriers for non-compliance.
Frameworks for compliance, such as indicators of nature's rights abuses and remediation processes, need to be established. Remediation may have lasting financial impacts for businesses, specifically regarding irreversible environmental damage.
The Human Rights team assesses the impact of AI in the retail, healthcare, extractives, and finance industries.
The next Insights+ will explore upcoming regulations in ESG and implications for business.
The latest on the arrival of new Securities and Exchange Commission regulations, and the adoption of the International Sustainability Standards Board framework in CDP reports.
Our Experts
Our Focus Area team consists of global experts across multiple focus areas, bringing a depth of experience and knowledge to integrating
focus areas
and
sustainability strategies
.
Stay focused on sustainability as a driver of business value, innovation, and resilience.