Key Points
The Beyond Growth conference in Brussels gathered leaders to discuss policies for sustainable prosperity in Europe.
Participants from a range of backgrounds such as politics, academia, trade unions, business, and civil society organizations attended the sessions and focus panels led by high-level speakers.
The event challenged the prevalence of economic growth as the main goal and discussed alternative pathways for Europe to move from "growth for growth's sake" to a "beyond growth" business model.
On May 15-17, BSR attended the three-day Beyond Growth conference, a multi-stakeholder event hosted at the European Parliament in Brussels. The first edition of the conference in 2018 gathered a low number of attendees. In 2023, the conference hall in European Parliament was full, with over 2,500 in-person attendees and 7,000 participants overall, including the President of the European Commission, Ursula Von Der Leyen, and the President of the European Parliament, Roberta Metsola.
At a time when the world is facing a polycrisis, the conference sessions were inspiring, filled with a sense of urgency and a remarkable determination for change. There was a collective understanding that the social, environmental, political, and economic crises are interrelated and that tackling them requires transformational policies and concrete action that address its root causes, rather than its periphery. Speakers highlighted the limitations of the current economic model in our era and that the decoupling of economic activities from natural resources use won't happen at the pace and scale which is needed for the world to thrive within planetary boundaries.
In her inaugural speech, Ursula von der Leyen set the stage by referring to the 1972 Limits to Growth report and delivered a powerful message: "A growth model centered on fossil fuels is simply obsolete" and that "economic growth is not an end in itself. Growth must not destroy its foundations, but instead, serve people and future generations.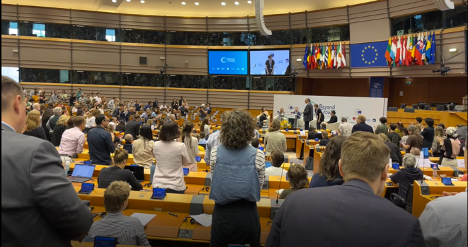 Key takeaways from the conference include:
The current mainstream economic model based on growth contributes to environmental impacts, penalizes the poor and vulnerable, and fuels inequalities globally.
We need different goals in 2023 and beyond. GDP growth is an indicator that is no longer fit for purpose and currently undermines social foundations and environmental limits. Our policies should rethink the place of growth as a means to an end, instead of a way of achieving a societal vision of prosperity, well-being, and care within planetary boundaries.
Achieving this vision differs across geographies, activities, and time. The "post-growth" economy within planetary boundaries is a fair society, and the concept of sufficiency as defined by IPCC is central to this vision. It will have very different implications by sector (huge investments needed in some, and a reduction for others); geographies (recognizing that certain countries live well beyond the threshold of planetary boundaries, while others struggle to keep their citizens out of poverty); and time (with transition phases toward long-term vision).
The alternative paradigm to our current economic model is not working. The main economic theory to reduce harm to the environment is environmental "decoupling." Several studies prove that decoupling is not working fast enough, and the decoupling of economic activities from environmental indicators is not feasible. Speakers pointed to the fact that alternative models do not necessarily need to be created from scratch—they exist but are not regarded in the mainstream economy.
We need to change the process, not just the goal. Vulnerable and marginalized communities have a limited voice in current decision-making structures. Giving such communities a place in the making of new policies and solutions is central to achieving a fairer and more sustainable society, and economy.
The provision of credible and holistic alternatives is central to the transition. Working toward this vision is a transition—and such a transition should be accompanied. Policymakers have a fundamental role in shaping the right, credible policies that bring about a planned, co-created transition. For example, shared decision-making on the implications of the concept of sufficiency and on the right path forward is crucial.
Civil society, academia, and business can advocate for change. While the conference showed a powerful flow of ideas and thinking from civil society and academia, EU policies are not fit for "beyond growth" thinking in Europe right now, and negative lobbying is impeding progress. All actors have a role to play to define and advocate for the right enabling policy environment to build a more just and sustainable world.
The conference covered a variety of subjects: reflections on fair wages and universal basic services to the just transition, the role of taxation as an instrument of social and environmental justice, the role of finance in a post-growth society, the impact of geopolitics of minerals in the green transition, the biophysical limits of our planet.
We left after three days inspired by questions, thoughts, and ideas and committed to exploring how these can help us advance the BSR vision of "a world in which all people can thrive on a healthy planet" in our work with business to create a just and sustainable world.
It is very clear that "the hard work" starts now for Europe, and time will tell whether European institutions will draw learnings from this vision to shape the right policies that go beyond growth for growth's sake. Doing so requires urgent action, courage to push for structural change, and an expansion of social dialogue.
It is also very clear that, while the right enabling policies are crucial, we will need forward-looking and credible action from businesses to work toward a balanced society within planetary boundaries. A thriving business within planetary boundaries will need to innovate to address the tension between traditional models and corporate sustainability goals, and our BSR team is ready to work alongside our members to do so.
Topics
Let's talk about how BSR can help you to transform your business and achieve your sustainability goals.