Overview
Human rights due diligence (HRDD) of products and services—also known as "downstream HRDD" or "end use HRDD"—has been a requirement of the UN Guiding Principles on Business and Human Rights (UNGPs) since their endorsement by the UN Human Rights Council in 2011. However, its relevance has skyrocketed in the past few years due to the rise of technology products like social media and artificial intelligence.
As the field of supply chain due diligence has matured, the downstream value chain is increasingly becoming a focal point for more traditional sectors like pharmaceuticals and heavy industry. Now more than ever, we can see and feel the human rights impacts of business products and services, which in turn has elevated the need for businesses to take a serious look at how their products and services are designed and developed, who they are sold to, how they are used, and how they may be misused.
What Is Downstream Human Rights Due Diligence?
Downstream human rights due diligence is the assessment and prioritization of human rights impacts that occur as a result of company actions or omissions during the design, development, promotion, deployment, sale, licensing, or use of products or services. It differs from other types of business human rights due diligence because it focuses entirely on the downstream value chain, rather than the upstream supply chain or direct business operations.

A. The End Use
What is this product and/or service intended to do or achieve? Should the company sell this product/service for this intended end use?
B. The Customer/End User
For B2B or B2G sales, what is the human rights track record and context of the customer and destination geography? Should the company make this deal with this customer?
C. The Impacts
What adverse human rights impacts might arise? What measures can businesses take to address these human rights harms?
D. The Company's Role
What is the company's connection to potential human rights harms? What leverage does the company have to address those harms?
Why Is It Important?
Downstream human rights due diligence is important because severe adverse human rights impacts can result from the use or abuse of products and services, as well as decisions made at any point in the product lifecycle. For example:
A product or service could be inherently incompatible with international human rights standards even if it is used correctly, like some applications of live facial recognition technology.
Unintentional misuse can occur due to user error or ignorance, such as the improper disposal of pharmaceutical drugs leading to environmental pollution.
Some products or services may be intentionally misused or abused, even if they have legitimate or valuable applications in other settings, like State-led co-option of telecommunications infrastructure to intercept and surveil communications in ways that are not legitimate, necessary, or proportionate.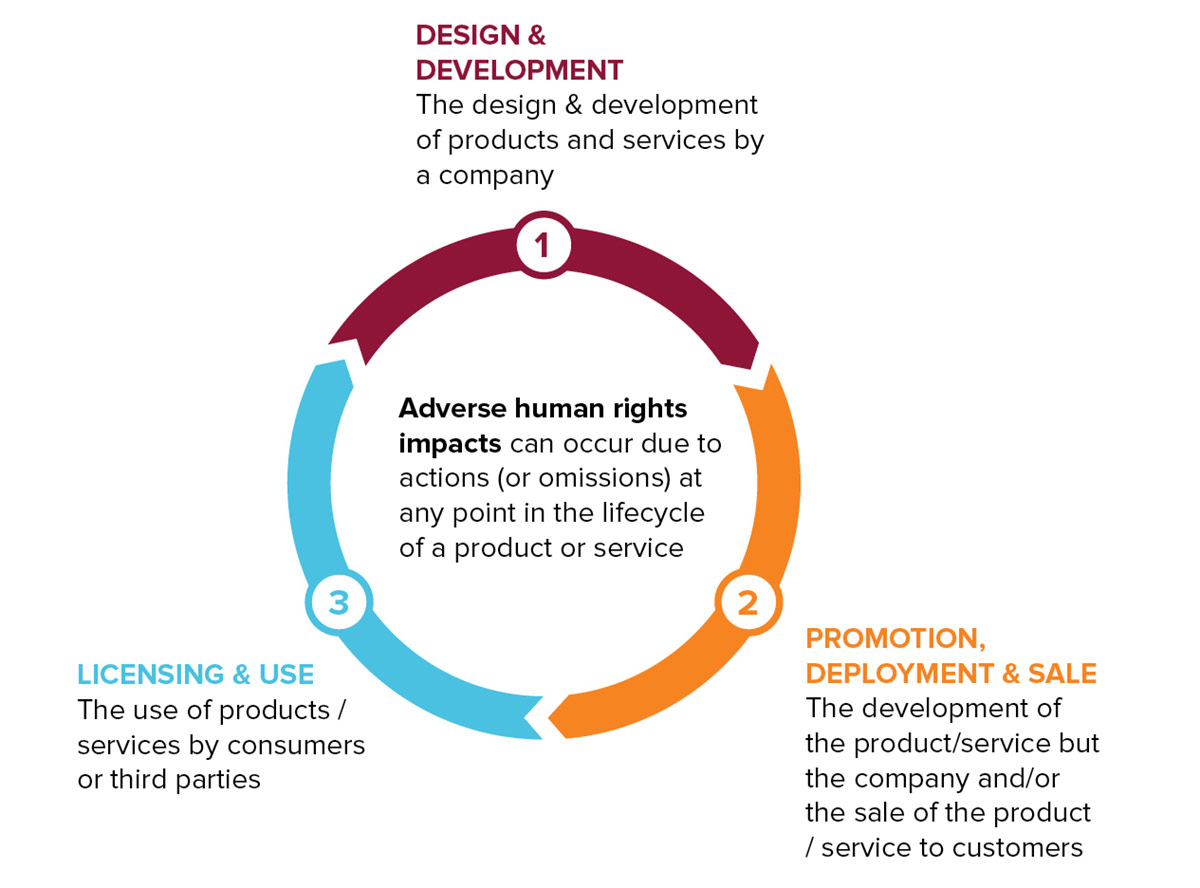 Downstream human rights due diligence is also part of the business responsibility to respect human rights under the UNGPs, which require companies to conduct human rights due diligence across their entire value chain–including the downstream value chain. A series of UN B-Tech project papers have elaborated on the technology sector's downstream HRDD responsibilities, and downstream HRDD will likely also be included as a requirement in the forthcoming EU Mandatory Environmental and Human Rights Due Diligence Law.
The Dawn of the Downstream Era
Increased public consciousness and stakeholder understanding of downstream human rights impacts, coupled with the emerging HRDD regulatory requirements, is leading to a new era in which companies must be prepared to identify, avoid, prevent, and mitigate the adverse human rights impacts associated with their products and services. BSR anticipates several ways downstream due diligence will expand over the next five to ten years:
---
---
---
---
---
Getting Started
Downstream human rights due diligence includes the assessment of (1) the end use human rights risks, (2) human rights risks associated with the customer/end user or destination geography, (3) specific human rights impacts, and (4) the company's connection to the impacts. The right approach is company/industry/product specific, and as such will come with its own unique dilemmas and nuance.
The four elements of downstream due diligence are meant to be considered holistically. An assessment of any area as "high-risk" does not necessarily mean that the product or service should not be produced, or that sales to a given customer or market should not go forward. Markets considered "high risk" due to poor human rights records may also be those that could most benefit from the product or service in question, and the most vulnerable groups in those markets may also be those with the most to gain from those products/services. For this reason, downstream HRDD should be designed to enable companies to conduct business responsibly, rather than lead companies to stop doing business altogether in markets that may most benefit from investment and access to products and services.
End Use Assessment
Customer/End User/Destination Geography Assessment
Adverse Impacts Assessment Due Diligence
Company Connection Due Diligence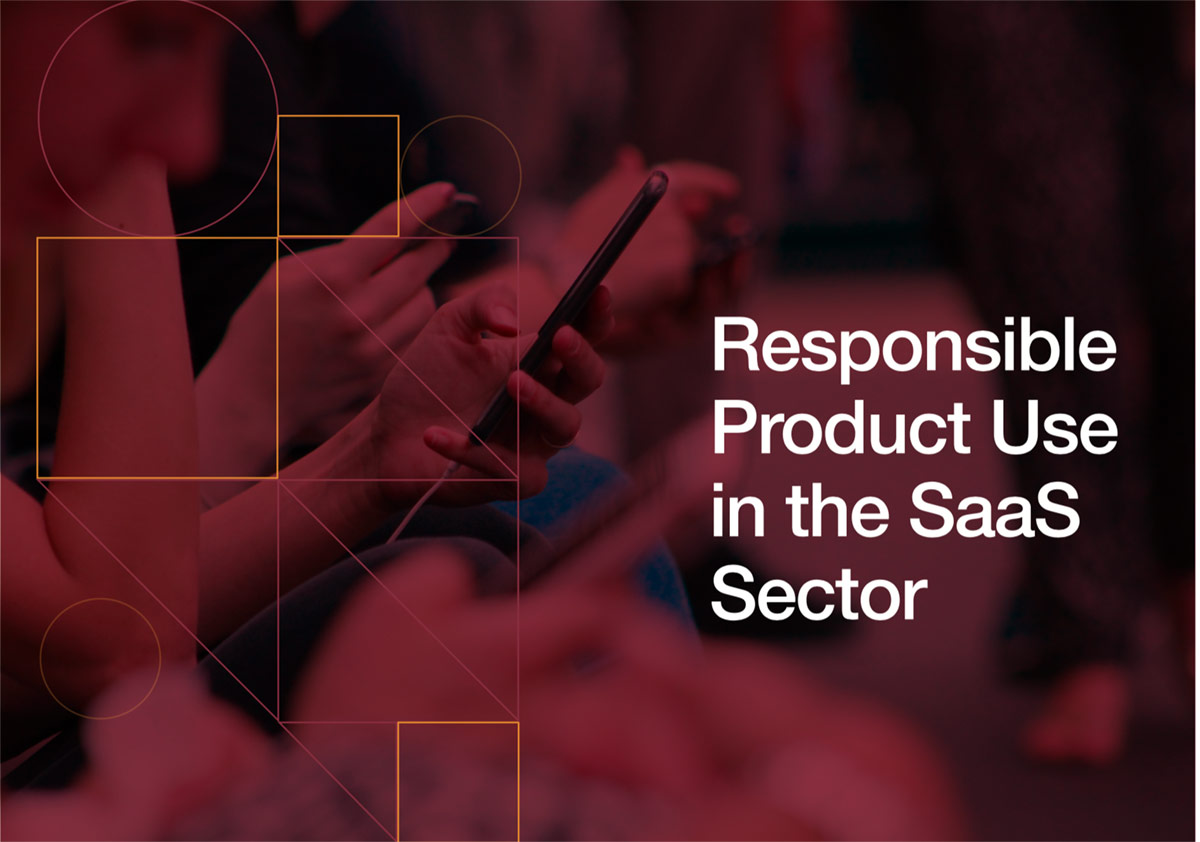 Explore this more deeply in our recent paper, Responsible Product Use in the SaaS Sector.
Let's talk about how BSR can help you to transform your business and achieve your sustainability goals.