Inside BSR is our monthly series featuring BSR team members from around the world. This month, we connected with Erin Leitheiser, who recently joined BSR's Climate team as a Manager.
Erin chatted with us about how her educational experiences abroad brought her to sustainability work and about her passion for climate issues.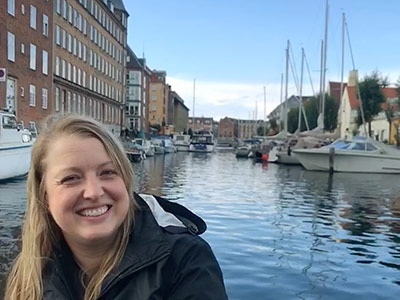 Tell us a bit about your background. Where are you from, and where are you based? How did you get where you are today?
I'm an American living in Denmark, and it has been quite the journey to get here. I grew up in Nebraska and left the US for the first time at age 18 for an educational program in Egypt. The differences between rural America and the busy streets of Cairo were drastic but enlightening. Beyond the rich history, the cross-cultural experience fascinated me and gave me a completely different vantage point for viewing and understanding my culture. From there, I was hooked on exploring the wonderfully diverse world around me.
While in Nicaragua on a study program, I met a garment factory worker who told me about the difficult working conditions and low pay, which showed me how consumer demands for cheap goods in the Global North impact the lives and livelihoods of those in the Global South producing those goods, piquing my interest in corporate sustainability. These experiences were crucial in developing my worldview and understanding of the interconnectedness between people, economies, businesses, and cultures.
I lived my adult years in Minneapolis, but my family and I moved to Denmark when I received an amazing offer to pursue my PhD at Copenhagen Business School. Scandinavia has long embodied and led in sustainability, so it has been an amazing place to learn, live, and work.
How did you first get involved in sustainable business? What issues are you passionate about and why? How does your work at BSR reflect that?
My passion for sustainability began at a young age. I still remember being shown a sustainability documentary in elementary school that showed me humanity's impact on the planet and our ability to rectify it. I became a thorn in my family's side, demanding that we be more sustainable by recycling everything, a tall order when the only option was hauling our recycling to a far-off center and sorting it ourselves.
It was probably unsurprising that I pursued a career in sustainability. Over the years, I've had the opportunity to work on social and environmental issues and across sectors. One of the things I love about BSR is the opportunity to work on classic consulting engagements directly with companies and grant-funded projects bringing together multiple partners to work on big, thorny issues and drive progress across the board. It's a fantastic hybrid.
I'm passionate about how research and knowledge can drive better insights and about exploring the intersectionality between issues, like how a net-zero transition might affect jobs and local economies.
How long have you been at BSR? What is your current role, and what does that entail? What are some interesting projects that you get to work on as part of your role at BSR? What do you enjoy about them?
I joined BSR in spring 2021. I am a Manager on our Climate team, where I drive several grant-funded projects and serve as an advisor on member company engagements. My work is focused on sustainable procurement and Scope 3, so supply chain sustainability.
I've gotten to work on many projects, from developing tools and guides to help companies engage their suppliers on net-zero action to exploring new and innovative ways that companies can collaborate together on their climate goals. Many of my projects had large deliverables for COP26, including the 1.5°C Supplier Engagement Guide, which provides practical guidance on buyer-supplier engagement for decarbonization, and Climate Fit, a free course for SMEs on making progress on their net-zero journeys.
Adjusting to life during a pandemic can be complicated. What were the things that brought you joy amid the uncertainty and challenges of the past year? As 2021 ends, what are you looking forward to in 2022?
Aside from not seeing family for nearly two years, I was thankful to be in Denmark during the pandemic, where lockdowns and restrictions were managed well. While it was a challenge juggling a full-time job while homeschooling two kids, I am grateful for the time I got to have with my children.
My family loves traveling, so this has been one of the biggest changes in our lives during the pandemic. As a family of four, we've made it to 17 countries so far (and buy high-quality carbon offsets to help mitigate the negative climate impacts of our travels). Probably like everyone, I'm eager for a semblance of pre-pandemic normalcy!
Topics
Let's talk about how BSR can help you to transform your business and achieve your sustainability goals.