Business has a vital role to play in the effort to limit global warming to 1.5°C in line with the Paris Agreement targets—and ambition is rising. To date, over 800 companies have committed to setting science-based targets (SBTs) to reduce their greenhouse gas (GHG) emissions in line with climate science.
Achieving such goals requires companies to identify their most significant emissions reduction leverages, including those found throughout their value chains. Most companies pursuing science-based targets have a good understanding of their Scope 1 emissions, generated by their own operations, as well as their Scope 2 emissions, generated from the energy sources that power their operations. Yet according to CDP, a company's supply chain emissions are on average 5.5 times larger than its Scope 1 and 2 emissions. While some companies have begun piloting projects to reduce Scope 3 emissions, action in this area remains fragmented and limited.
A new approach for tackling Scope 3 emissions is needed. In this paper, BSR presents our three-step approach that can serve as a roadmap for business, providing a way into the topic for companies at the beginning of their journey and guidance for companies already taking action to scale their efforts. We recommend business to take the following approach:
Map the value chain to locate the greatest GHG reduction potential. To do so, companies can adopt a "reverse sourcing" approach—rather than moving down the value chain by first engaging Tier 1 Suppliers, companies need to assess their entire value chain to identify where the most potential for emissions reductions lies.
Demonstrate emission reductions through pilot projects. Pilot projects allow companies to determine the best structure for a project and to demonstrate the opportunity to achieve GHG reductions at scale in the value chain. Pilots will provide learnings that set the company up for large scale deployment and greater industry collaboration.
Scale up and engage value chain partners and peers. To effectively achieve their Scope 3 targets, businesses will need to widen the scope of collaboration with value chain players and peers and ensure that the right internal processes, such as procurement and marketing, are in place to shift the value chain.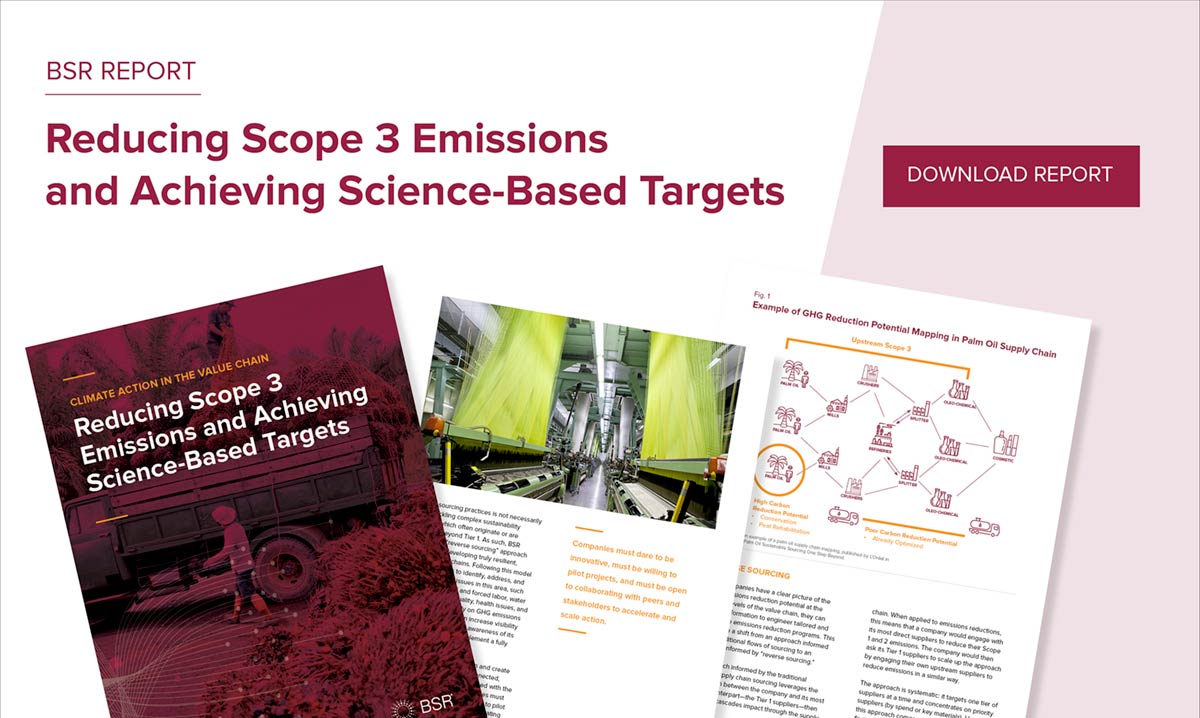 Let's talk about how BSR can help you to transform your business and achieve your sustainability goals.