---
As part of BSR's Business Leadership for an Inclusive Economy initiative, we are running an interview series with thought leaders from business, government, civil society, academia, and philanthropy. Their voices and perspectives will help deepen our conversation on how we can build a more inclusive economy and how business can most effectively contribute to that vision. We spoke to Annette Stube, head of group sustainability at Maersk, about how the company is focused on enabling trade and creating jobs and why supporting healthy economies is a business imperative.
Racheal Meiers: What does it mean to be included in the economy?
Annette Stube: In some ways, it's very simple: It means to have a job. And not just a job, but a job that meets basic expectations for decent work. For example, at Maersk, we have a set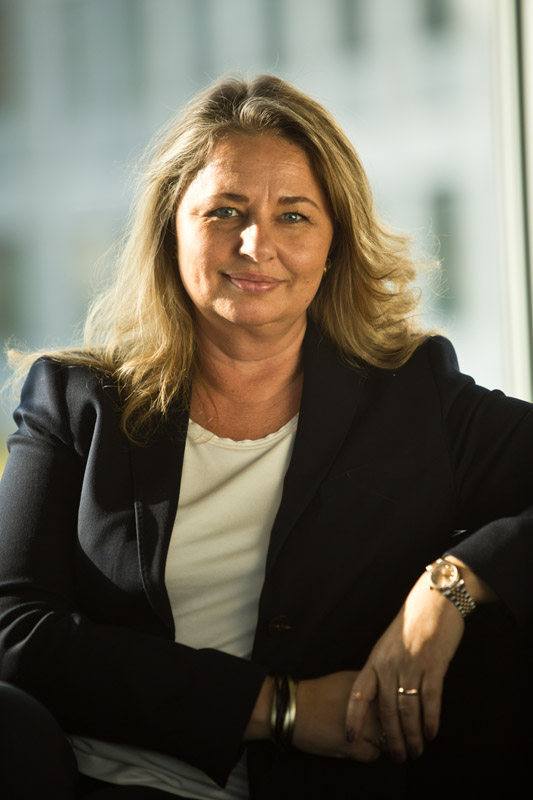 of labor standards that apply to our employees, based on human rights principles and ILO [International Labour Organization] conventions. These apply to our supplier requirements as well.
An important aspect of creating an inclusive economy is therefore creating jobs—and we take this very seriously as part of our "enabling trade" strategy. Specifically, we work to ensure that people aren't excluded from participating in the global economy due to complex, opaque, or inefficient transport and logistics services.
Meiers: Tell us more about that—how is Maersk working to enable trade as a transport and logistics company?
Stube: We've observed that inefficient ports, poor roads, and sluggish trade-facilitation processes create bottlenecks that cost our business—and also drag down national economies. When a ship sits idle in port for hours or even days, it means that goods are delayed. This creates a domino effect, delaying payments, revenues, taxes, and reinvestment of capital. This hurts even more in developing countries, where transport is much more expensive than in more mature markets.
To address these challenges, we're engaging in partnerships to address systemic challenges that slow down trade.
For example, we're working with flower growers in Kenya, government officials, local NGO TradeMark, and other partners to reduce the time spent on documentation required to ship the flowers to Holland. We found that more than 30 people had to handle documentation, and to send a shipment required 200 unique interactions between companies and public officials. So we're working with partners in the region to digitize this process, thereby reducing the cost of administration, bureaucracy, and time for everyone.
Reducing these types of burdens is particularly important for small- and medium-sized enterprises (SMEs), like horticultural producers, who can't afford to outsource these processes to logistics providers. Helping SMEs access international markets more efficiently and cost-effectively becomes a job creator, as they are able to grow their businesses to meet growing demand for their products.
Meiers: I imagine that advocacy and engagement with national governments plays an important role in your enabling-trade agenda. How are you approaching those relationships?
Stube: We've found that gathering evidence for the potential of trade efficiency to create jobs and support local economies helps us engage local and national governments more effectively. To gather this evidence, we're doing pilot programs around the world and carefully measuring their impact. For example, Maersk Group got the concession for the Apapa port terminal in Nigeria in 2006 and undertook major efforts to improve the physical condition and the operations. The grounds and the buildings and the equipment were run down; there were people living on the premises, and trees growing up through the equipment, and so on. The average time a ship spent in Apapa was around 28 days. We worked with local suppliers, governments, and employees and their unions to really transform the terminal. Today, the ship waiting time has been reduced to less than one day. As a result, the cost of trade is reduced, and we have seen significant growth in trade. We calculated that these changes created more than 30,000 jobs in the local community and across Nigeria.
Being able to take numbers like that to national governments and demonstrate the economic benefits of infrastructure upgrades, of trade efficiency improvements—this changes the nature of our conversations. We bring the perspective and the evidence that puts societal needs at the center.
Meiers: Facilitating trade growth isn't the only way Maersk can create jobs. Tell us about some of the approaches you have to recruit and train people to fill jobs in Maersk Group.
Stube: Education and vocational skills development are key priorities for us—in a mapping exercise across our global offices, we found 111 active education projects in 33 countries, many tackling different aspects of education. A key focus area for us is vocational training for seafarers in our shipping industries and oil-service businesses, who represent a critically important group of employees for us. Many of our seafarers come from places like India, the Philippines, Angola, and Brazil, and some of these jobs don't require high levels of skill or education, and we do much of the training ourselves. Maintaining a pipeline of skilled seafarers is an ongoing business objective for us, and we're trying to blend that with efforts to generate employment for often excluded groups, such as women and youth.
Meiers: I know we work together in a number of areas, from reducing climate emissions in shipping lanes, to combating corruption in international ports. What are some of the ways you see BSR most effectively supporting Maersk and our other members in building a more inclusive economy?
Stube: The important role for you is to help companies realize how they can best support economic development through the nature of their businesses—and not just anything, but really in the sweet spot between what is needed in society and what that specific business can supply, what they do really well, where they have their competencies, and so on. I think BSR can be a facilitator or a catalyst to help companies to think down these lines. You also have a great capacity to bring different industries together, when cross-sector collaboration is needed.
Meiers: Why is this vision of an inclusive economy so important now? What's driving the urgency behind Maersk's enabling trade agenda?
Stube: Actually, I think it has been important for many years. Today, although 700 million people have been lifted out of poverty, one billion people remain impoverished. And in Africa, for instance, a growing population means that the majority of the 2.4 billion Africans in 2050 will be young and looking for a job—double that of today. So any business must look at job creation as a key strategy for economic stability and growth.
And creating jobs by enabling trade is good for our business—we don't try to hide that. If trade increases, we'll have more boxes to ship. Our customers depend on strong economies and we depend on our customers. Inclusive economies are more likely to create stable societies, which is always a benefit to business. Maybe that's the point: It's really that simple.
Read more perspectives on Business Leadership for an Inclusive Economy, and follow the conversation on Twitter at #BSRinclusion.