For the first time in many years, I am missing Climate Week and the UN General Assembly (UNGA) this year, and not only because COVID-19 prevents me and most of the Sustainable Development Goals (SDG) community from traveling to New York. This year, I also missed it for family reasons: our younger son began university, in person, even amidst the pandemic.
Universities in the United States have been seriously disrupted by COVID-19, and there are many fears about whether even limited opening makes sense from a public health perspective.
But for our family, there's more, since our son entered university in the state of Oregon in the immediate aftermath of the devastating wildfires that destroyed homes and livelihoods for so many. My "climate week" this year was all too real.
Upon arriving at our hotel in Eugene, Oregon, we encountered not old friends and colleagues from countless climate conferences, but a Red Cross table checking in dozens of fire evacuees whose homes had been destroyed and who required temporary housing in hotels.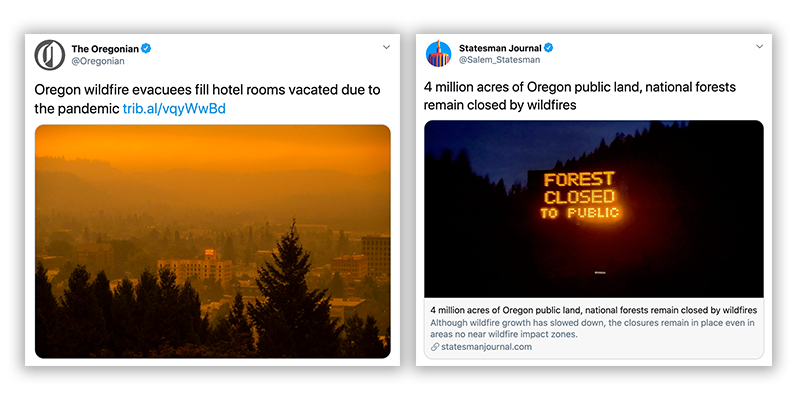 Transportation was disrupted not by the motorcades of heads of state shutting down midtown Manhattan, but the sight of entire neighborhoods burned to the ground alongside the interstate on the way from California and poor visibility from the smoke that plagues the West Coast of the U.S. weeks after the fires began.
Instead of earnest—and undeniably important—conversations about poverty reduction and achievement of the SDGs in conference rooms, our hotel hallways and common spaces were filled with evacuees—climate refugees—carrying their belongings. It was impossible to ignore the fact that many of the people in our hotel were economically disadvantaged before the fires and face extreme precarity thanks to these fires.
It was also striking that many of the displaced did not honor the statewide mandate to wear masks inside. This troubling experience seemed likely to be a real world manifestation of the "mask denialism" that plagues portions of the United States. This is yet another illustration of the all-too-familiar debates over red-state versus blue-state culture in the U.S. that have similarly undermined climate action in the world's largest economy.
I suspect that my 2020 Climate Week, far from New York, far from an endless stream of dialogues, dinners, and impromptu meetings, will linger in my consciousness far longer than any other.
Climate Week remains an indispensable time of year. Indeed, amidst all the terrible news of 2020, the flurry of new announcements tied to Climate Week from leading businesses, investors, and coalitions is one of the best reasons I can think of to maintain a degree of optimism at a time of so much hate, suffering, and uncertainty.
And while I miss being with friends and colleagues working furiously for a net zero economy that truly sustains all people, I suspect that my 2020 Climate Week, far from New York, far from an endless stream of dialogues, dinners, and impromptu meetings, will linger in my consciousness far longer than any other.
I hope that next year, we will be able to gather safely in the ways we have grown accustomed to doing. And whether Climate Week 2021 is virtual or in person, I intend to hold dear the encounters I had with the climate refugees I witnessed in the lobbies and hallways of Eugene, Oregon this week. We do our work for them. Even more, we do our work to make sure that their tragic reality does not become our collective fate. And with no offense to everyone fighting hard to achieve decisive climate action, a single encounter with a family that has lost their home means more, and inspires more, than a thousand Zoom chats.
Topics
Let's talk about how BSR can help you to transform your business and achieve your sustainability goals.