---
As part of our organization-wide strategy to promote Business Leadership for an Inclusive Economy, we are running an interview series with thought leaders from the business community, government, civil society, academia, and philanthropy. Their voices and perspectives will help deepen our conversation about how we can collectively build a more inclusive economy, as well as how business can most effectively contribute to that vision. We recently sat down with Barbara Dyer, president and CEO of The Hitachi Foundation, to talk about investing in the American workforce as a good business strategy.
Racheal Meiers: What do you think it means to be included in the economy? How do business decisions impact inclusion and exclusion?
Barbara Dyer: At The Hitachi Foundation, we won't settle for the notion that the pursuit of profit necessitates a reduction of environmental and social value. Business leaders make choices all the time from what to produce to where and how to produce it. Throughout the production and distribution chains, the choices leaders make bear on the bottom line and on society.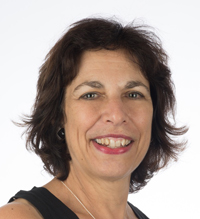 There isn't a CEO that doesn't assert that "our people are our greatest asset"—but often practices, consciously or subconsciously, create real barriers to investing in those assets effectively.
Too frequently, business choices limit opportunity for people, particularly for those on the margins of the economy. With these choices, we're wasting an enormous asset, which is talent.
Meiers: Why is striving to include more people in the economy so important now, for the United States in particular?
Dyer: The structure of the economy has changed—with large corporations moving away from vertical integration and outsourcing many of the jobs that used to be in-house. All businesses can use sophisticated tech platforms that maximize efficiency in "on-demand" management strategies. The human cost of this change is that more people have to piece together a living by working multiple jobs to make ends meet.
An economy needs to be dynamic; there have to be new ways to do things. If we lose sight of the critical role work plays—not only as a necessity for financial well-being, but as a fundamental defining quality of individuals and of society—we all lose.
Meiers: How do you see businesses responding in positive ways to this challenge, through your Good Companies @ Work program and other Hitachi Foundation initiatives?
Dyer: To overcome the prevailing view that labor is a cost to be minimized, we've set out to show that investing in people is good business. We work primarily with small and medium U.S. firms, many of which are suppliers to large multinationals. In particular, we focus on two sectors with high numbers of lower-skilled workers—healthcare and manufacturing.
For many of these companies, their people strategies—creating good quality jobs, pathways of upward mobility, and investing in worker training—give them a competitive advantage. In some cases, these strategies affect their entire operation and dramatically improve the business. These companies have found innovative ways to change their workplace culture and invest in their employees' skills. The results include reduced turnover, improved efficiency, and increased employee engagement.
Meiers: Do you have an example of a company that is doing this well?
Dyer: One is Zingerman's in Ann Arbor, Michigan. Zingerman's started as a delicatessen, and has grown to 10 lines of business. Its people strategy underpins all company operations. The basic tenet is that every employee knows about, and is invested in, all aspects of the business.
All of Zingerman's employees are trained on the financials of the business, understand the significance of each product sold, and are involved in decisions about customer satisfaction and sales strategy. The workers feel empowered to use their creativity and analytical skills to make the business run better. Zingerman's makes every employee feel like he or she has an ownership role in the company.
Meiers: Making some of the changes you're talking about must come at a cost before it translates into savings. How do you convince companies that the short-term cost is worth the payoff?
Dyer: It is often true that things get worse before they get better. You have to apply some design thinking and anticipate the downsides so that you can keep things moving forward. But doing the opposite—changing nothing—is usually a much bigger risk.
Meiers: What are some solutions to creating opportunities for marginalized workers in the economy? What do you see as the greatest barriers to be overcome?
Dyer: One challenge is to create a bridge between workforce development institutions and major employers. The two sectors are disconnected. Large employers are often not willing to invest in the training of new hires, which limits the business' ability to cultivate talent from marginalized groups. Moreover, many large employers have a sense that hiring those with limited skills carries too high a risk. We need more workforce intermediaries to connect people to jobs.
We also need to provide employers with the solid evidence and data that doing so generates real business value. Finding ways to mitigate the risks associated with making hires is key.
One of the reasons we focus on incumbent workers is because we've seen what happens when employers create training opportunities for low-skilled workers to move them into more advanced roles. It opens up entry-level jobs for those seeking work—and creates a culture of high performance, where workers understand that if they acquire certain skills, they, too, will move up the career ladder.
Meiers: Speaking of large companies, they are our primary partners at BSR. What role do you think we have to play?
Dyer: BSR is a thought leader, a galvanizer, and a respected organization in this field. It's exciting to see you introducing frameworks and ideas around business leadership for an inclusive economy. This is an important moment in time—people are beginning to step back and look at how capitalism has evolved. We see that there are some real limitations to what has happened, and we need to acknowledge that we may have gone too far in reducing our investment in labor during this period of globalization and technology change and that there is a need to recalibrate.
BSR is in the position to lead those discussions and uncover tangible solutions for the business community. I think that BSR can play an important role in creating tools that help companies integrate inclusive ways of doing business into their operational strategies.